Complete Guide to Modular Onsite Storage
Onsite storage for tools, materials, and other job site equipment is often an important aspect of keeping your remote workplace organized, efficient, and secure. The old adage—a place for everything and everything in its place—is just plain good business practice.
This complete guide to leasing onsite storage containers was created to walk you through the process of choosing the appropriate temporary job site storage for your situation. It will list your options and give you the criteria for making the best choice.
But it's designed to do more than that as well.
At the end of this guide, you'll have enough info to help you make the right decision. It could save you time and money, too. For example, you might discover that for some projects, storage on-site may not be necessary. There may be other more cost-effective options.
But you won't know for sure until you know your choices, right?
We'll start with some basic questions, and then get into some more in-depth info. If you don't have time to read it now, you can download the guide and read it later.
- 1 -
What is an onsite storage container?
Cargo containers for onsite storage are usually one-trip shipping containers. They're manufactured overseas and used to ship one load to the United States. Constructed of heavy gauge steel, these containers are rugged enough to stand the rigors of an ocean crossing and more. They're also water- and rodent-resistant to keep the contents free from contamination. Additionally, lockable swing-out cargo doors are fitted at one or both ends. These end doors permit easy, but secure access to the container. They are manufactured in 10-, 20-, and 40-foot lengths; they are 8 feet wide and 8.5 feet tall on the outside. Once offloaded and emptied, they're inspected and, if necessary, modified for their new life, often as an onsite temporary storage container.
Cargo shipping containers are arguably the sturdiest and most secure option for protecting gear and supplies on construction sites or other venues. With the variety of lengths available, they'll store and protect anything, like boxed or crated parts and supplies, and full-length conduits and piping. Usually, cargo containers can be rented, purchased, or leased to own.
Another common name for these storage containers is Conex boxes. Additionally, you might hear them called ISO containers, intermodal containers, sea cans, or merely shipping containers. The Conex name is a mashup of "Container Express," a nickname given to them by the U.S. military.
The term ISO container signifies that these cargo containers are constructed to International Organization for Standardization requirements, particularly as they pertain to materials, construction materials, manufacturing specifications, and internal and external dimensions. The dimension requirements were put in place to ensure correct and secure loading of these containers on cargo ships and flatbed rail cars.
The benefit of having rigid specs on the external dimensions is that you know exactly how much room you need to place the container, plus, they can be uniformly stacked, arranged, and can be placed using the same forklifts that also comply with ISO specs. With specific interior dimensions, it's easier to figure out just how much material or supplies you can store in them. Both the square footage for floor space and the overall cubic footage are easily calculated.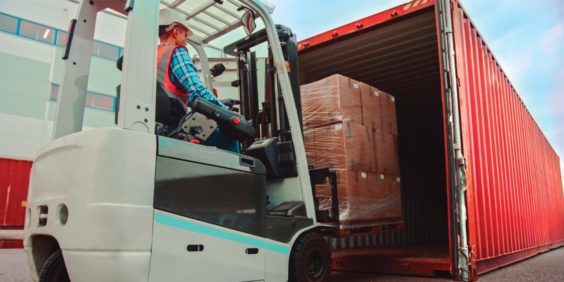 Other Onsite Storage Options
Aside from onsite storage cargo containers, other types of temporary onsite storage are available, but most are constructed with sheet metal, skinned over a wooden or steel framework. These storage space options include trailers, pods, and mobile home-style units.
While fairly sturdy in their construction, these types of storage cannot always withstand the wear and tear often associated with the rough conditions and frequently inclement weather found on construction sites. However, converted cargo container storage boxes are well-suited to the rigors of job sites and any other location where they're used.
For example, they've often been used to house materials for emergency operations, providing a secure, weathertight enclosure for food, medical supplies, and rescue equipment.
Container Storage - Tough Enough for the Most Demanding Jobs
Remember that container storage boxes started life as shipping containers, built to survive the high seas onboard ocean-going cargo vessels. They were specifically designed to keep the valuable goods stored inside the box safe, secure, and undamaged by the winds, rainstorms, and saltwater environment encountered during passage.
If they can keep products secure during transport on the Seven Seas, they can surely protect your tools, supplies, and more on the jobsite. One feature—their weight—is part of the reason they can weather your storms.
A 20-foot container weighs approximately 4,800 pounds, while a 40-foot container can weigh upwards of 8,000 pounds. So, it will take more than a huff and a puff to blow these storage behemoths over. And since they sit directly on the ground, the bottom of the container won't act as an airfoil, lifting the box off the ground during high winds.
Besides storage area capacity, the Conex storage box handles heavy loads with ease. Depending on the size and structure of the box, the net load could range from 57,000 to 63,000 pounds. A typical Bobcat skid steer loader weighs around 6,200 pounds, up to a little over 10,000 pounds.
- 2 -
Why rent an onsite storage container?
There are several factors in determining whether to rent an onsite storage container. While there are several good options for temporary onsite storage, some circumstances make cargo container storage boxes a more attractive and efficient option.
Here are some questions that will help you decide what's best for your current or future temporary storage requirements. You might find that you don't need a shipping container every time you need to store something on site.
But when you do need jobsite storage, the answers to these questions will help you get the best arrangement for your unique requirements.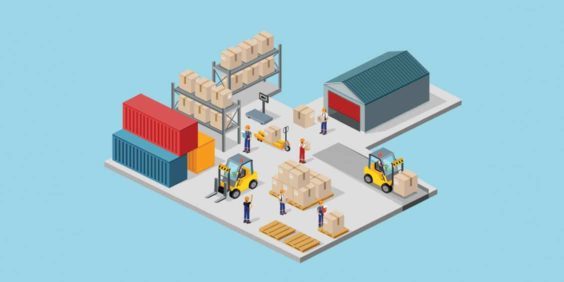 1.) How much storage capacity do you need?
The smallest cargo containers are typically 8' x 10'. The interior dimensions are 7' 8" (92 inches) wide by 7' 8" (92 inches) high by 9' 2" (110 inches) long. This brings the total capacity to just under 539 cubic feet.
To determine the capacity needed, the formula is: length (in) x width (in) x height (in) ÷ 1728 = total cubic feet. Of course, you can just multiply the dimension in feet to get the same result. In any case, that's what you'll need to do to figure out how much storage capacity you'll need to acquire.
This information is useful if you don't have a large amount of equipment or material to store on the jobsite. If what you need to stockpile is less than 538 cubic feet, it's a judgment call on your end.
You'll need to factor in how much access to the items stored you need to have for efficient operation. For example, if the items are boxed and can be placed in an order that allows access to them in the proper order, you don't need much "wiggle room." But if storing them close to each other means you need to jockey them around a lot, then plan for enough space to allow for that.
Cargo container storage units are also available in 8' x 20' and 8' x 40' sizes. These larger capacity storage sizes are ideal for storing long items, larger equipment, and extending the use beyond just simple 'warehousing.' They can often be modified to serve additional purposes by adding racks, shelves, and other (non-permanent) alterations to change the interior layout. The 10-foot models can also be accessorized, but the length of the supplies you want to secure may put some constraints on modifications.
Sometimes it might be more efficient to store smaller capacity loads in a pull-behind trailer. We'll discuss that in more depth below. But another factor may influence your decision to rent cargo container onsite storage.
2.) How long is the duration of the job or storage need?
All storage options—whether trailers or pods, semi-pulled trailers, or shipping container storage—have minimum rental or lease periods. Some rental periods might be days; others are weeks. So how long you need the storage container can play a role in what you rent.
If you only need storage for a day or two, or even a week, a pull-behind trailer might be the best option. Hook it up to your pickup truck or van, and away you go. However, the only drawback is that you'll need to take it offsite every day unless you have a 24/7 crew working, or have planned for security.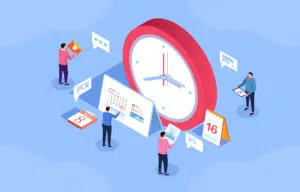 Honestly, most major commercial construction or remodel projects rarely take just a week, let alone a few days. Shipping container storage is normally rented on a 28-day cycle. Four weeks allows you to get the job done in many cases.
Since quite a few projects will extend beyond the four-week rental, estimating the length of the rental period should be easy. And don't forget that a project isn't always done when the work is finished. Final inspections are necessary, and it would be great to still have your supplies on the jobsite if punch list items need to be attended to right away.
It's possible that a project won't finish right on the 28-day mark. So you may have a couple of days, or even a week, left in the rental agreement. But you've likely figured that into your operating expenses already. But another critical issue that must be considered is that of security.
3.) How secure do the items you're storing need to be?
Vandalism is an ever-present danger that must be contended with. As prices go up on building supplies, you can't afford to leave your electrical, plumbing, and even carpentry supplies unprotected. According to a report published by Knoema.com on July 1, 2021:
"Copper prices reached an all-time high of $10,512 per metric ton on May 9, marking a 130% growth since March 22, 2020."
Copper is a common element found on worksites, and copper theft affects many trades: electrical, plumbing, and HVAC, to name three. Unfortunately, along with the price of copper, copper theft is on the rise. To quote a June 9 article on InvestingNews.com:
"Copper prices have reached all-time highs in 2021, and the red metal's positive price action is fueling black market demand for copper scrap. Copper theft has long been a major source of anxiety, particularly for the construction, utilities and transportation industries, and legislators are still attempting to stop property vandalism. While stealing copper might sound difficult, it's quite common and can affect major entities. In fact, copper thieves made off with US$500,000 in copper wiring from a stretch of the Manhattan subway line in New York in late 2020."
Of any of the onsite storage options, shipping containers, or cargo boxes, are arguably the sturdiest and most vandal-resistant. The heavy-gauge steel and robust locking mechanisms are harder to defeat by criminals using conventional methods for job site theft. In fact, there is only one other option for truly secure storage. But it could have a major drawback – it's not on site.
4.) Is there a form of fixed storage rental available close by?
Fixed storage units are often used to warehouse items for a job site construction project. Many are gated and have limited public access. Mostly built like row upon row of garages, they often have on-premises security, either live personnel or security cameras, to help protect your valuable supplies.
Even though most doors are similar to residential or commercial garage doors, the security measures and fencing help ensure protection from vandals. However, many do have limited access hours, particularly if they're only monitored electronically. That can be an issue if you need something in the middle of the night.
But there's another potential concern that you'll need to consider for offsite storage.
5.) Is it cost-effect to transport items to and from the site?
As secure as an offsite storage facility might be, it could become a logistical nightmare. Depending on its proximity to the job site, you may be spending as much time transporting supplies as you do working with them. Some 'windshield time' is inevitable. Likewise, there are times when a trip to the supply house is unavoidable — and you may have someone designated for that task.
But if you find yourself hauling supplies back and forth on a regular and frequent basis, you might as well store them on site.
Be sure to cover all the logistical bases when considering offsite storage.
Now, there's one more concern you may have to deal with. But with a little careful planning, it shouldn't be a big issue.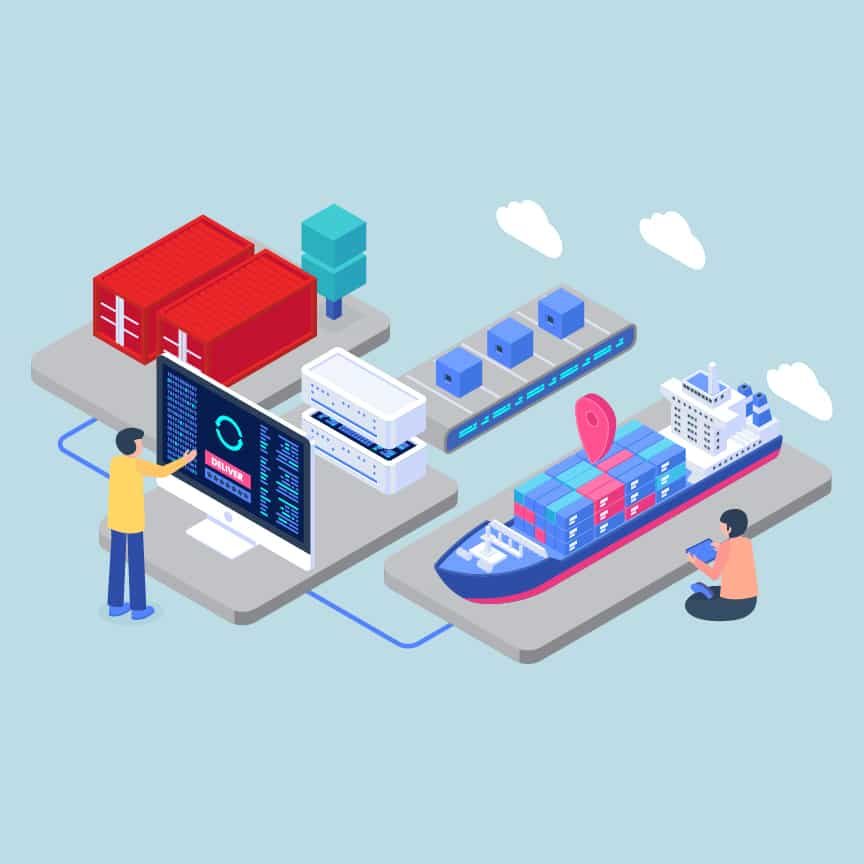 6.) Can you set up a permanent location for storage on the job site?
A cargo container may be referred to as 'mobile storage' but that doesn't mean it has to be moved around once set in place. It may be possible to reset the location during the construction job's progression. But if you can 'set it and forget it,' so to speak, that's best.
Remember that if you choose a cargo box container as your storage option, you'll need to discuss the location requirements with the rental company. While the boxes can be set relatively close together, you'll need to ensure that room to offload them is available. And be sure to ask the leasing company if they can be relocated should the need arise, and what needs to be done to make that happen. And, if you've decided that a storage cargo container is an option for you, based on the previous questions, and you have a permanent location for it, you may want to consider purchasing the unit if that option is available to you and you have the budget.
Answering these questions is the first step in determining if leasing or renting an onsite storage container is the best choice for your situation. It's certainly one of the most secure options available. And it can be the most convenient as well. Talk to a rental company rep if you have more questions concerning your rental options, as well as delivery dates and times.
By the way, construction sites aren't the only location where secure mobile storage is needed. There are a lot of creative uses for renting a cargo container storage unit, many times containers are used for retail storage.
- 3 -
Five Common Uses for Onsite Container Storage Units
Ocean-going cargo shipping containers that once sailed the oceans often serve more land-locked purposes as robust storage containers. While onsite storage is often linked to construction sites, it is also used for other venues and purposes.
We'll discuss five uses for onsite container storage here. We will start with the always popular jobsite storage options, but we'll also cover some you might not have realized were possible, yet you can utilize for your other projects as well.
1. Cargo Containers for Jobsite Storage
We've talked often about using container storage units for construction site purposes. They provide secure, vandal-resistant storage for tools, equipment, and parts. With the price of lumber, copper, and other building materials rising, you need to make sure nothing "walks" off the site. Let's take a deeper dive into construction site practices before we look at other potential uses for container storage.
While renting just one storage unit might suffice, many construction companies choose to lease several units simultaneously. Construction companies who provide multiple crafts find it conducive to keep materials separated using a distinct container for each craft. If the general contractors are in charge of renting units, they find it convenient to rent a storage box for each craft, which makes tracking and inventory easier. The size of the cargo container box is usually based on the material to be stored in them. For example, electrical trades often benefit from the 8' X 20' units. This size allows racks to be installed to hold and separate conduits of various diameters and still allow plenty of room for shelving to hold fittings and other necessities. Keeping a good supply of various condulets—such as pull-through conduit bodies, tees, and LBs—ensures your electricians won't run out in the middle of a conduit run. In addition, separating them by size and type assists inventory tracking.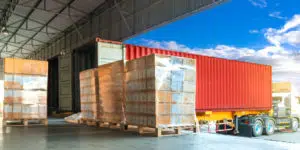 Since shipping containers used for onsite storage sit directly on the ground, a shallow ramp can be placed in front of the swing-out cargo doors. This allows bulk storage of conductors and permits easy access to them. Whether supplied on large bulk spools, bulk barrel containers (a relatively new offering), or smaller spools already mounted on roll-around or cart wiring racks, rolling them in and out of a ground-level storage container is much easier than using a forklift to retrieve them from a trailer type storage option. That said, a trailer can be used for bulk storage, with supplies transferred to the container on an as-needed basis.
Of course, plumbing, HVAC, and other crafts benefit similarly from using converted shipping container boxes. Even those trades that finish out the interiors of buildings under construction will find that cargo container storage promotes a more efficient operation. For example, it's possible to ship fixtures, flooring, carpeting, and furniture to the jobsite long before they need to be installed. This helps keep 'surprises' at bay, ensuring the products are onsite in time or ahead of schedule. The weather- and vandal-resistant containers (which, by the way, are also rodent and pest resistant) safeguards the products' pristine condition when the time comes for installation. And since they're delivered to the jobsite in advance, any items damaged in transit can be replaced before they're needed.
2. Mobile Offices in a Can
One of the nicknames given to ocean-going cargo containers is sea can. However, these robust storage 'cans' can be used for mobile offices in various settings.
Shipping containers converted to mobile offices are primarily used for job site offices used by general contractors, electrical and plumbing companies, and other trades. (At SiteBox, they're available for purchase or rent, already preconfigured.) However, mobile offices are just one of their many uses.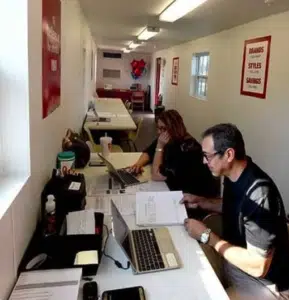 Others include:
Security offices for construction, major renovation, and demolition projects
Protected offices for carnivals and festivals
Security offices for pop up music concerts
Mobile command centers for natural disasters
First responder huts (divided with offices on one end, rest areas on the other)
Cargo container storage units are often modified to make secure areas for mobile offices on a job site. Some rental storage containers have a few modifications already in place. For example, some (like those at SiteBox) will be configured with grated windows and basic electrical systems with outlets for office equipment.
Rental units that are preconfigured for office use will have overhead lighting, and heating and air conditioning units mounted on one end. Personnel entry doors on the side are included in most cargo container units designed for office space instead of strictly for storage use. Basic countertops and shelving are often included.
Room dividers (with or without personnel doors) are a possibility. That means that these units can either have two offices or include an unfinished storage area on one end that's accessed by swingout cargo doors. In rentals used for both office and storage, the office section will have finished walls, while the storage unit will be the normal cargo container interior. The unfinished area can be fitted with pipe racks, three-tier shelving, and even hooks for hanging bicycles used by employees to get to work or cruise the job site quickly.
One thing to remember is that these office units are preconfigured with a limited amount of modification possible. They're very popular on job sites, so contact the rental company to make sure one's available for use. These modified units come in 20-foot and 40-foot lengths.
3. Cargo Container for Temporary Warehousing
Another reason you might want to lease an onsite storage container is to provide temporary warehousing of retail goods. Often, buying bulk seasonal items and special purchase goods require more space than you have available. Setting a mobile storage cargo container near your store can give you the much-needed, secure, and weather-resistant enclosure you need. And it keeps your showroom or display area free of the clutter that might hinder shoppers.
They are particularly useful if your store's warehouse is undergoing expansion. Since it might be inconvenient, if not downright dangerous, for employees to retrieve items from a warehouse under renovation, shipping container storage keeps your personnel out of harm's way.
Since they sit directly on the ground and are easily accessed with a small ramp, the employees can access products quickly and safely, even if bulky or in large boxes.
Because shipping containers are built to be pest and rodent resistant, dry goods such as cereals and other nonperishable dry foods are protected from damage by mice and other pests.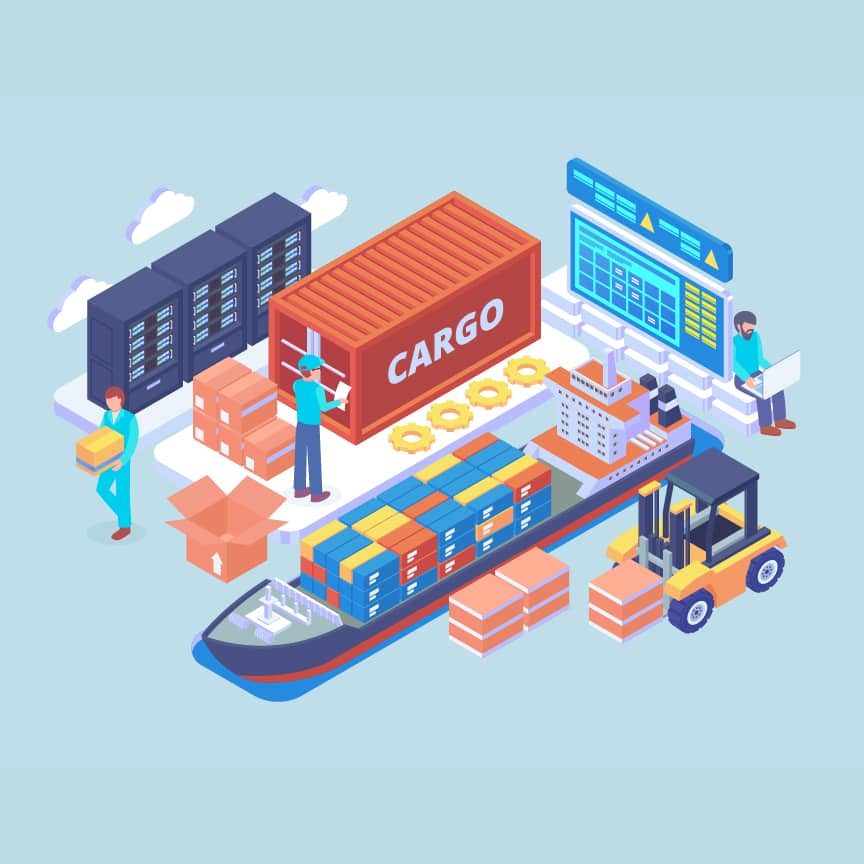 4. Business Relocations Made Easier with Onsite Storage Containers
There are times when you're relocating your business, either across town or across the state. You can temporarily store a lot of supplies, furniture, and office equipment at the new location, as long as you can find a solution that's sturdy enough to give you peace of mind. While a gated storage facility can fit the bill, a mobile storage unit can often be parked at the new location, saving time and money by only moving your stuff once.
These units can be placed near the new location, often in a parking lot. They facilitate the move by allowing you to store supplies and office equipment at the new location to be retrieved and installed at your convenience.
Moving your office to a new location can be quite involved without preparation and a good plan of action. Creating a business moving checklist, often starting as much as eight weeks from the final move, can help make the transition run smoothly.
5. Temporary Storage for Schools and Universities
One of the most interesting practices we've seen is schools and universities using mobile cargo container storage units as more or less permanent storage facilities. Sports equipment, extra tables and chairs, desks, and other office equipment are often stored in cargo shipping containers on the school grounds. Even groundskeeping equipment, up to and including lawnmowers and tractors, are stored securely in these units.
Many schools and universities rent or lease these containers ongoing, charging the rental fees to their operating expense budget. Because of the multiple-use possibilities and repurposing options, it just makes sense for them to set them up semi-permanently.
The Possibilites Are Only Limited by Your Imagination, Really
These are just five of the most common reasons for renting shipping containers for secure storage and operations. Now that you know them, you may come up with several ideas of your own.

- 4 -
Accessorizing Onsite Storage Containers
Imagine you've rented an onsite storage container for the job site or other venue. You may not want to just stack your stuff on the floor in a jumbled mess. Keeping parts or accessories in boxes might help keep them organized. But often, it slows down access to them, adding time to your project.
There are some optional accessories for cargo container storage boxes that make your job site workflow more convenient, more accessible, and more secure. Most are available for containers used for storage, for mobile offices, or a combination of both. Let's start with one of the more unique options.
Bicycle Storage Made Easier
You may have workers who pedal their way to work if they live near the job site. For some, it's part of their fitness regimen. Wouldn't it be great to accommodate them with secure storage that's protected from the wind, rain, and sun?
Bike racks are available in 20-foot lengths, holding up to 25 bikes. The racks are sturdily fastened to the ceiling of the storage units. The bikes are hung securely by the tires. If hung on one side of the interior, the bikes are easily accessed by the riders.
But bike riders aren't the only reason you may need the rack option. In fact, bicycle retailers might find these are great for storing extra inventory. Depending on the seasonal weather, keeping additional bikes or new models may be made easier with temporary onsite storage. Stock up with what you need for the seasonal rush, and keep them securely tucked away in a cargo container, easing the clutter in your store's warehouse. Buying in bulk for seasonal offerings can save you money, as long as you can keep them secure.
A sturdy cargo container keeps extra inventory safe from prying eyes and thieves. And because they're designed to weather the storms, any inventory that must be returned at the end of the season will still be in pristine condition.
Make Better Use of Wall Space with Storage Accessories
Sturdy pipe racks are an option that you may find extremely useful on the jobsite. Plumbing pipes, electrical conduits, and even lumber can be stored off the floor, leaving up to 24" of floor space to store parts, accessories, and tools. Pipe racks help keep things organized and accessible, saving time for retrieval and inventory management.
Along with pipe racks, you might want to consider optional shelving as well. Three-tier shelving can be installed against the wall to keep small parts, storage bins, tools, and small equipment handy. Their sturdy bracketed design can hold between 550 and 1100 pounds, and are 32 inches deep. And as with pipe racks, they still allow for storage floor space beneath them.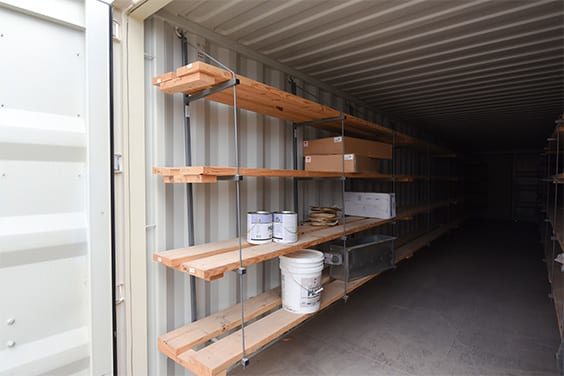 Give Your Storage Box A Split Personality
Wall dividers, with or without personnel doors, can be installed to keep items separated by craft. Usually used in cargo containers with cargo doors on both ends, this is a valuable option to consider, particularly on busy job sites.
They can be used for two different crafts, keeping parts separated. Or, for some uses, the divider can provide storage on one end and a break area on the other. They can even be used to create separate office and storage areas—more on that in a minute.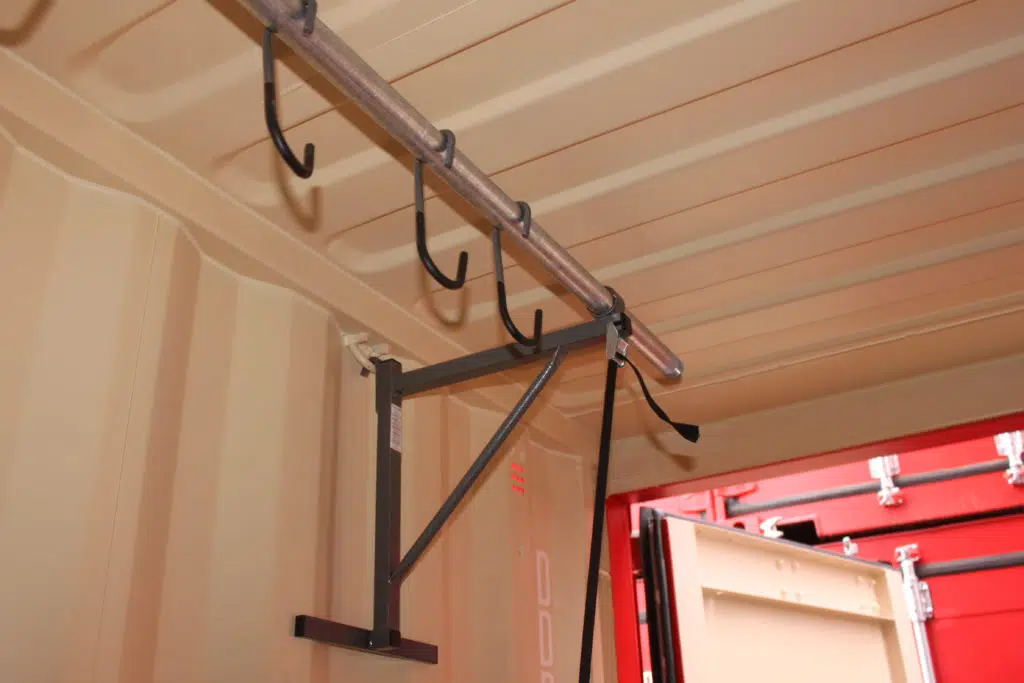 Two Simple Accessories Provide Security and Safety
These two options are ramps and locks designed specifically for cargo container use.
Container storage units sit directly on the ground, and worker entry doesn't require steps or handrails. But when moving bulky or heavy items in and out of the unit, a pallet jack, cart, or hand truck might be necessary.
Ramps designed for cargo container use save time and money instead of laying down asphalt or gravel for access. Easy to install, and safer to use for uneven surfaces, this is an option to consider.
Cargo doors are designed to be tough to break into. Therefore, the padlocks to secure them should also be as sturdy. You can rent or buy locks designed specifically for the latching/locking mechanisms on cargo doors. And to keep things simple, you can get them keyed alike for multiple units as well. The locks from SiteBox Storage are sized to fit container doors, unlike many padlocks available at discount stores and home improvement centers.
Cargo Container Storage, Mobile Office, or...Both?
As mentioned above, wall dividers can be used to separate containers into two sections. This is commonly done with 20- and 40-foot units. But many times the container is used just for mobile office space. Some units are prewired for lighting and electrical outlets. This can be helpful in any scenario: storage, office, and hybrid storage/office usage.
Many of our units are modified specifically to be used as mobile offices. They'll have grated windows, air conditioning units, and personnel entry doors on the sides. In addition, office units (and combo units) will have a 200-amp electrical panel mounted in the office section, and a communication panel will be installed under it.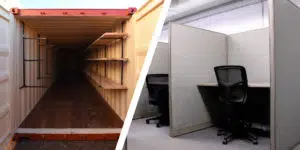 Simple plan tables and built-in workbenches can be provided. The surface of the workbench is a Formica laminate with a stellar white finish and is located at the front end of the unit.
For units that serve double duty as an office and storage area, the storage section is unfinished, but does have a floodlight mounted on the wall, near the ceiling. Of course, you can add your own accessories as long as they don't damage the unit's integrity. Be sure to contact the rental company for guidelines on that.
Storage containers converted to office space are in high demand, so you should contact the rental company in advance to ensure one is available for your project.
Mobile onsite office or hybrid units aren't just for construction sites. Any event where a quick and easy portable office setup is necessary could benefit from one constructed from a cargo container unit. Carnivals, fairs, outdoor music events, and more might be able to put these secure offices to good use.
- 5 -
Container Storage: The Pros and Cons
Cargo containers modified for jobsite storage and even mobile offices or command centers are a popular option for construction sites, natural disaster operations, and even special events like carnivals, music festivals, and town celebrations. There are a variety of businesses that can use container storage! Their sturdy design makes them one of the most secure and vandal-resistant storage choices available. A look at the pros and cons of using converted cargo containers for storage is worth discussing.
When weighing the pros and cons of container storage or a modular mobile office, there are several questions you should ask. The answers will help determine the best option for your situation. Let's begin with one that can be a health and safety issue, but is avoided by container storage.
Is Ease of Access to Storage an Important Consideration?
Ease of ingress and egress is one of the major benefits to your work crew on a jobsite. Since a cargo container storage unit or mobile office sits right on the ground, you won't need stairs, ladders, or handrails to enter the units safely.
Construction work is physically demanding, to say the least. With workers climbing ladders, stairs in the building (if a multiple-story building project is in progress), and hauling equipment or parts around, it's easy to be bone-tired at the end of a shift.
A ground-level storage unit is a welcomed break during the day.
It's possible that a cargo container storage unit could avoid OSHA violations, too. Stairs and handrails, even on construction sites, must follow strict regulations for sturdiness, composition, and construction. Avoiding the need for them is one less headache to have on your mind. Other forms of storage or office space will require stairs, handrails, and even landings to allow safe worker access. It's good to understand that they will require specific and sometimes costly additions to stay in compliance.
Occasionally, you might want to use a small ramp. It can be formed of gravel or other materials. But an optional steel ramp that's sturdy enough to extract bulky or heavy materials with a dolly, cart, or hand truck can be an ergonomically sound idea.
Where Does the Storage or Office Need to Be Located?
Location considerations top the list. If considering renting a cargo container for mobile storage, you need to ensure you have enough room. The area needed to drop off a container varies with the length of the box. A 20-foot container needs approximately 50 to 100 feet of straight clearance, depending on the type of delivery equipment available in your area. A 40-foot container would need approximately 100 feet of straight clearance and an approximate width of 12 feet.
Here is a visual for forty-foot and twenty-foot units delivered via a tilt-bed tractor.


The location for the shipping container storage box also needs to be fairly level to ensure the doors will open and close easily. You can make some adjustments but within certain limits. Usually, the delivery driver handles the leveling process. And should the ground shift during the rental period, the driver or other representative will return to adjust the container again.
On soft, unstable ground, each corner of the container should be supported with either asphalt, gravel, concrete footings, pavers, or railroad ties. A truck and trailer can weigh over 30,000 pounds. If you need an off-road delivery it is best to discuss the road condition in advance to ensure safe delivery.
How Long Is Onsite Storage Use Required
Duration is another factor to consider, as mentioned earlier. The leases for most cargo container storage units are contracted in 28-day increments. The lease or rental agreement includes the drop-off and pick-up fees. Renting for a few days or a week could mean you need to check into something else, even if less secure.
However, for rental lengths of two weeks or more, the value that a cargo container brings in safety and security may outweigh the additional cost.
Additionally, the rental times for cargo container storage units, like those provided by SiteBox Storage, are usually flexible. That means if you find you need it longer than expected, you just call the office to extend the arrangement. Filling out a new lease and additional paperwork isn't usually necessary.
Another consideration is that most rental companies have an adequate supply of shipping container storage units readily available. That means that you can rent and use it only when you need it. Prompt delivery and pick up and the 28-day billing cycle make them the most convenient and available storage options for most situations.
Other types of storage are often in limited supply. That can mean you need to call and make rental or lease arrangements fairly far in advance to ensure one is available when you need it.
And, should you need it longer, there may even be options, like leasing-to-own a storage container, or buying a container outright.
What do you need to store?
The contents, or what you will be storing in the onsite mobile storage container, should also be factored in. Be sure to check with the leasing company to make sure what you want to keep inside can be legally stored. And remember, the more valuable or expensive the contents to be stored, the more secure the mobile storage should be.
You can't get much more secure than an all-steel cargo container. Container doors are designed to accept a padlock. Some come with lock boxes to prevent bolt cutters from reaching the padlock. This makes them ideal for securing important and expensive items.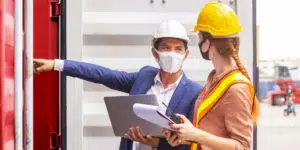 As for their construction, they're made to be tough. Containers are manufactured utilizing a weathering steel alloy which was developed to eliminate the need for painting, as a stable rust-like appearance develops when exposed to the elements. (A well-known brand of weathering steel is Cor-Ten.) But cargo containers used for storage should be painted by the rental company to improve their life (for added corrosion-resistance) and their appearance.
Flooring types will vary, but most utilize a 19 ply, 1-inch thick hardwood plywood over steel cross members.
This means they're resilient, able to weather almost any condition found on the jobsite. And they can store quite a bit of weight, in fact, often more than other storage rental options.
Does An Aesthetic Look Play A Part In Your Operation?
Let's be real. Cargo containers are likely the ugly ducklings of onsite storage and mobile office choices. Pretty much a huge rectangular box, they're not exactly known for their curb appeal. If you need to impress the public, a portable office might not be for you at all.
But a portable office built from a converted cargo container does have advantages over other temporary office ideas. Let's face it, the dashboard of a truck makes a lousy desk. When you need to get work done right in the middle of all the action, you need a real, fully functional office.
Unlike other mobile offices available, converted cargo containers are built to sit at ground level, making them both safer and more attractive. These portable offices are configured to maximize productivity and provide all of the amenities of a modern brick-and-mortar office to help you take care of business in comfort. Even air conditioning and power.
If the function is your main concern, not the aesthetic, then a modified shipping container office will provide all the amenities you need in a sturdy, secure module.
Will Frequent Relocation Be Necessary?
Mobility is the final consideration. Once set in place, it may be difficult, at best, to move the container to a different location. It's not like hooking up to a tractor or pickup and hauling it around. If you think there's a good possibility of moving it, contact the leasing company to see what your options are.
But if you carefully plan out the location where the office or container will sit, you shouldn't have much of a problem with having to relocate.
One more thing to consider is that most cargo container storage companies don't provide moving services. So they don't offer packing, loading, and unloading, or transporting of loaded containers. They're not moving vans, they're storage containers and temporary offices.
Hopefully, these questions covering the pros and cons of container storage will assist you as you plan your next construction project or other scenario that requires either onsite storage or a secure mobile office.
- 6 -
Easy Customizations for Onsite Storage
The secure onsite storage provided by cargo shipping containers, also called sea cans or conex boxes, is a popular choice on construction sites and other venues across the Midwest. These containers can be used "right out of the box" with no modifications necessary in many cases.
Their robust steel construction and secure, locking cargo doors make them ideal for storing parts, supplies, and equipment used on the jobsite. Just about anything that needs to be stored and secured onsite can be housed in these mobile 'strongboxes' in any location with a relatively flat yard or parking lot.
Office Spaces
There are times when you need more than a plain box for your project. Many units come preconfigured to be used as office spaces, and some are combined as office/storage all-in-one to enhance your workspace. They typically come complete with HVAC units, electrical, communications capabilities, and they have windows with grates to let in natural light while maintaining a secure environment.
With the addition of some basic planning tables and office furniture, they make converting the dashboard of your truck into a mobile office a thing of the past.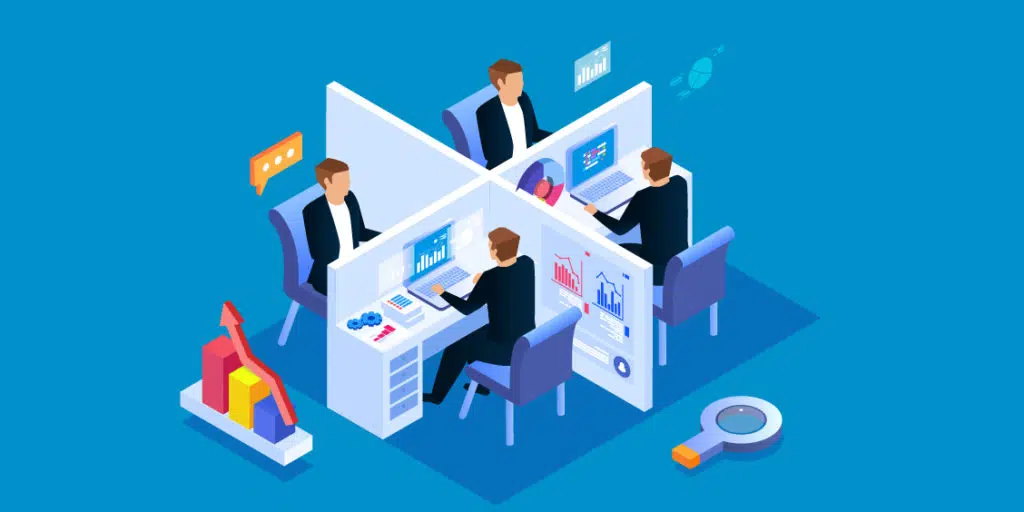 Storage Containers: Thinking "Inside" the Box
There are several ways to modify your storage area by simply using accessories for your Conex box, as we've previously discussed. This is handy if you are only renting the container, rather than buying it. Accessories include things like pipe racks, bike racks, wall-mounted shelves, wall dividers to create separated storage spaces, and ramps for easy access.
Storage accessories and temporary modifications are easy enough, even with units you're only renting. And readily available mobile offices are great too. However, if you're open to purchasing, there is another option you can check into.
Made to Order Modular Spaces: Going Beyond the Basics
Usually, a basic rental unit will serve a worksite well. But what if you want something more personalized? That's not only possible but easy. You can order a unit that comes with more features than one of our standard Conex boxes and even more than one of our standard mobile offices.
We started making portable offices with the knowledge that there's no easy way to do business from the dashboard of your truck. Our goal since 1998 has been to make convenient solutions, with a heavy focus on customer service and safety.
Today, that means quality, rugged custom solutions in various sizes are far and away more than just storage or offices. Container storage units can be customized in several ways: with one of our open floor plans, which is essentially a blank slate, or by choosing one of our custom modular designs—floor plans that have been so popular among our customers that the floor plans are now made-to-order and customized with your specifications.
One thing you might have noticed with standard mobile offices in the absence of indoor plumbing. With a conventional unit, you'll still need to rent an onsite portable lavatory.
With a customized unit, that can be included, and much more. With 10-, 20-, and 40-foot units, the possibilities are wide-ranging. We're talking more than restrooms, of course. But that is a feature that's possible.
The designs that are available in made-to-order units are popular for construction, manufacturing, and retail sites, among others. One of the most interesting layouts is the portable lab.
10'x10' Portable Laboratory Layouts Make Good Sense
Custom-designed portable laboratories are used for various purposes. For example, consider one of these customized 10' X 10' shipping containers if you need a secure lab. For this made-to-order design, the cargo doors are blocked off, and ingress or egress is through a sturdy, lockable personnel door.
Along with a transformer to supply the correct voltage necessary, these units can be fitted with water heaters, PTACs (portable terminal air conditioning units) similar to those used in hotel rooms, climate control fans, fire extinguishers, and an exterior fire alarm, if necessary.
Upper and lower cabinets round it out. Everything but the kitchen sink (although one of those can be installed as well).
Some uses for these units are medical emergencies, soil, and water testing, chemical mixing, and research.
Temperature-Controlled Data Centers
Whether for permanent or temporary installation, an 8' X 20' shipping container makes an excellent data center. While they can be custom-designed for you, there are several items that most customers want to have installed.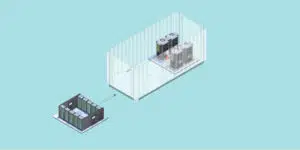 For example, keeping server racks and networking equipment cool is crucial for their efficient operation. Heat wreaks havoc on sensitive electronics, so these are outfitted with adequate cooling through twin HVAC units and proper under-the-floor ventilation.
Comm cabinets easily provide connection to the outside world, and a sturdy side-mounted personnel door secures entry. While you provide the server racks and electronics, the rest of the data center is built to spec.
Secure Guard Shacks Made Easy
Built-to-order guard shacks are often constructed from 20-foot containers. This gives the security personnel plenty of room to move around and keep the necessary items close at hand. Roomy enough for chairs, tables, and file cabinets, it's easy to keep your security personnel alert and on the job.
Windows can be added for visibility. An outside mounted HVAC unit keeps personnel comfortable in any weather. And, there's an optional turnstile to control entry and keep entrants moving along, yet still under watch.
These can be customized for factory or refinery entrances, fairgrounds, rodeo grounds, or any venue where crowd control and controlled access are needed. Once built, they're installed quickly at your location and can often be moved when necessary.
With 40-foot units, you have even more possibilities for sturdy custom builds. And as mentioned, indoor plumbing is possible.
Mobile Offices in 20- and 40-Foot Lengths with Restrooms
For all the comforts of the home office, customize a mobile office with an included restroom. You can start with a standard configuration and customize it to your specs. Or you can start from scratch and have the mobile office of your dreams built for you.
It's your office — get what you need in a custom space. Each custom modification can include features like security windows, HVAC with temperature control, smoke detectors, and fire extinguishers.
You can customize with options like ready-to-go desks with electrical and ethernet connections, stainless steel countertops, and many other material selections and finishes. Plus, using interior fast walls, we can section things how you desire, creating offices or space for storage.
We can even add plumbing for the addition of restrooms or kitchens.
20- and 40-Foot Units for Restrooms/Locker Room Combos
Longer custom builds allow for even more layouts and accessories. These can be built for temporary or permanent placement in a variety of locations. Instead of a costly building project, a customized container can be modified and placed onsite quickly and cost-effectively.
Even if you plan to build permanent facilities, purchasing a custom restroom and locker combinations can fill the gap between breaking ground and opening for business. And the mobile unit can always be moved to a new location if necessary.
The 20-foot models are usually men's and women's restrooms only. But if you want to add locker rooms or changing rooms, then a 40-foot model is ideal.
So far, we've only looked at customized units that are 8 feet wide. But what if you need more space than that? That's also a possibility.
Multi-Section Modular Offices
Sometimes an 8-foot wide office just doesn't cut it. It's great for most cases, but often more room to move around is necessary. There could be several reasons:
More individual offices needed
Open spaces to allow for a reception area or lobby
Restroom space needed in addition to offices
Maybe add a small gym or exercise room for permanent installations.
With fast walls used to partition areas, the options for a 40-foot multi-section office are practically endless.
This is where you can get creative with your purchased shipping container turned office space. Of course, HVAC units keep the environment comfortable for you and your employees. But there are many more amenities to give your office the look and feel of a brick and mortar office.
The fast walls can be manufactured and placed with regular office doors to allow for privacy. Double or single glass doors let people make an entrance into the office space in style. And don't forget a fully functioning restroom. No more porta-potties allowed.
Ceiling lighting can be installed to illuminate your tasks. But adding table lamps could give that customized shipping container a comfortable, pleasing atmosphere.
Tables and chairs, desks, and other furniture (that you provide) round out this larger option for onsite offices.
While this type of build is usually a permanent installation, it can be moved later if necessary. But overall, consider this multi-section, customized office as your new office onsite.
Often these can be manufactured and placed in a shorter timeframe than traditional construction. But longevity is another consideration. Cargo containers are built to last, often with up to a lifespan of 35 years.
The Almost Endless Possibilities of Customized Containers
Next time you pass by a shipping container, it's almost guaranteed you won't look at it the same way as before. Now you'll see the vast opportunities available, whether used for temporary onsite storage or mobile office, or the potential for a more permanent solution using personalized customizations.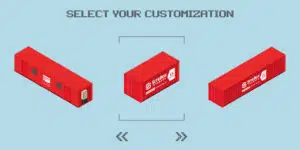 What It All Boils Down To
At SiteBox Storage, our business is steel modular storage containers, mobile offices and customized structures. We've been doing it since 2005. We get that you have your specialty too. That's why our team of experts, in Sales, Estimating, and Project Management, are ready and willing to answer your questions and consult on your project, whether that's renting a simple storage container, or purchasing a made to order customized structure.
Let's start talking about your goals and see if it makes sense to put a SiteBox Storage unit on your worksite.
We'll ask the right questions when it comes to your needs and your worksite since no two are alike. Our expert team can help you start planning your project to save you time, money, and, most importantly, keep your stored items secure and safe.
Give us a call. Hopefully, this guide gave you a good idea of whether you should consider leasing a mobile storage unit (or even a mobile office unit) for your next project. However, if you need more information, contact us and our friendly expert customer service reps will answer your questions and make suggestions to make your next storage rental one that will make you happy.
Download the Complete Guide to Modular Onsite Storage