How are shipping containers constructed?
Containers are manufactured utilizing a weathering steel alloy which was developed to eliminate the need for painting, as a stable rust-like appearance develops when exposed to the elements. A well-known brand of weathering steel is Cor-Ten. Flooring types will vary, but most utilize a 19 ply, 1-inch thick hardwood plywood over steel cross members.
Are the storage containers wind and water Tight?
Shipping containers are wind and water tight when new. Used containers may have worn or damaged door gaskets or some damage to the roof or sides. Inspection of your container prior to purchase is recommended.
How secure are containers?
Container doors are designed to accept a padlock. Some come with lock boxes to prevent bolt cutters from reaching the padlock.
What is the difference between a standard and high cube container?
A standard container is 8 ft. 6 in. tall. A high cube container is 9 ft. 6 in. tall (outside dimensions).
What maintenance is required after purchase?
Containers require very little maintenance. Areas to inspect are door hinges and locking bars. Lubricate with oil as needed. Dents or corroded areas may be patch welded and easily painted.
Is condensation a problem?
Condensation is typically caused by temperature variations between the inside and outside of the container. In addition, low areas in a roof line may cause water collection and condensation can develop on the opposite side of the steel. Shipping containers do have a small number of air vents and absorption products such as DampRid may also be used to control excess air moisture.
How do Conex and ISO containers differ?
There is no difference. Conex, ISO, shipping, and cargo are terms used interchangeably to describe an ocean going shipping container.
Why do you need my city, state, and zip code for a quotation?
This data is utilized to calculate the delivery fee portion of your quote.
What site preparation is required?
The surface must be fairly level, smooth, and firm. This is important for the doors to operate smoothly. On soft, unstable ground, each corner of the container should be supported with either asphalt, gravel, concrete footings, pavers, or railroad ties. A truck and trailer can weigh over 30,000 pounds. If you need an off road delivery it is best to discuss the road condition in advance.
How is a portable storage container delivered?
A tilt-bed truck is used. The driver will back the trailer and lower the end of the container until it touches the ground then will pull straight out from under the container. Specify which way you would like the unit to be loaded. (doors facing the cab or to the rear of the truck.)
How much room do the trucks need to deliver the unit?
Ask what type of truck will be used for your delivery. Distances required will vary be equipment used. A 20′ storage container needs approximately 50-100′ of straight clearance, depending upon the type of delivery equipment available in your area. A 40′ storage container, approximately 100′ straight clearance.
Width requirement is approximately 12′.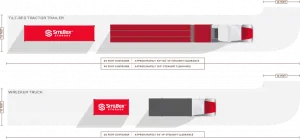 How much overhead clearance is needed?
Clearance is subject to the type of vehicle used for delivery. A minimum of 13.5 ft. of overhead clearance is required for access to the property.
Additional height (totaling 15.5 – 17 ft) is needed at the drop-off spot due to the lifting of the trailer.
Any obstacles like trees and overhead wires must be cleared prior to delivery.

Do I need permission to place a container on my property?
Containers are categorized as temporary locatable buildings and are frequently not restricted. However, this varies by county and by state. Check with your local planning authorities to check for restrictions prior to making your purchase.
How long does delivery take from the time of order?
Deliveries can typically be made within 2 business days. For areas outside of our standard local routes, delivery could take 4-5 days.